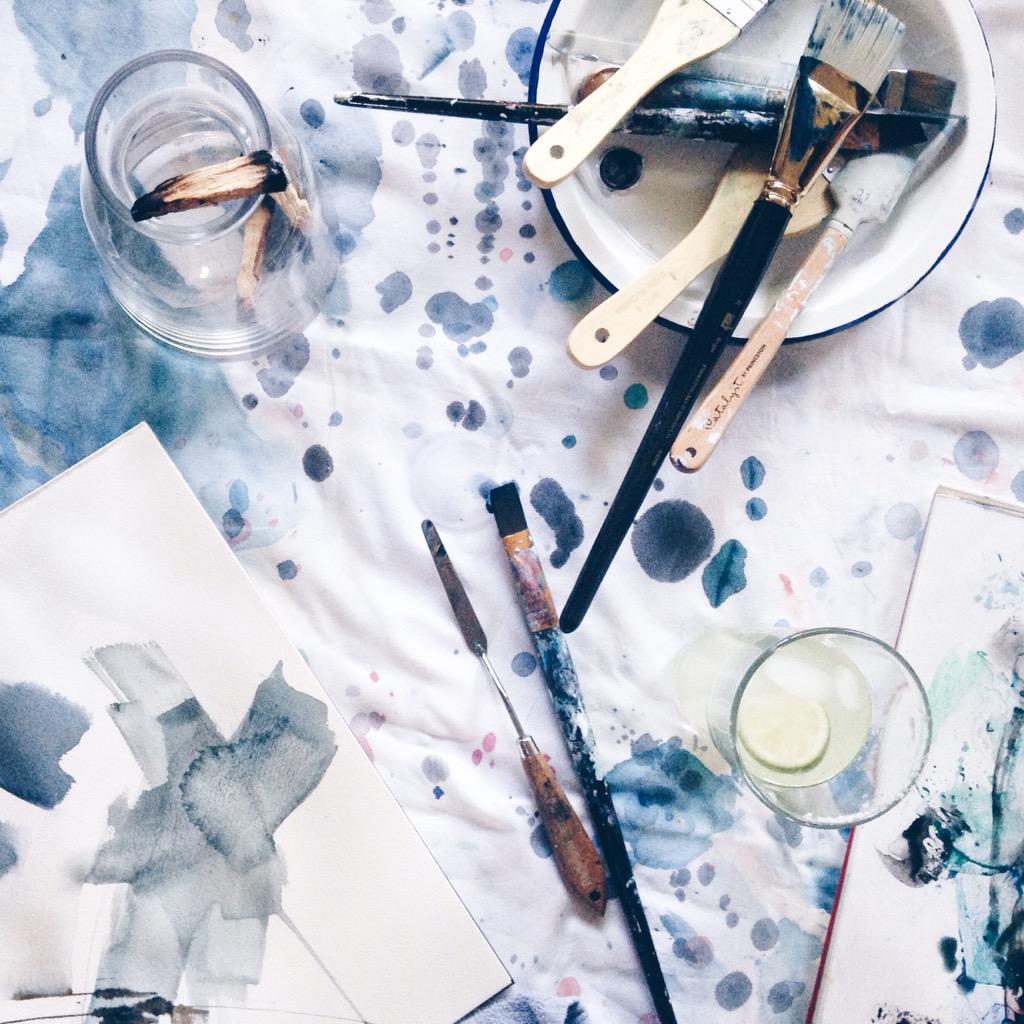 Wisconsin-based Dani Schafer is a painter, sculptor and all-round artist. Schafer's work involves layered, process-based abstract painting, sculpture and fiber art, as well as carefully designed wearable pieces with clean, simple lines. It's calming and muddle all at the same time. Schafer references nature, the human body and gender in her two and three-dimensional forms. And, she uses the richness of indigo blue to evoke her mood.
"I never consciously intended to work with cooler tones, but once I started I couldn't stop," Schafer says on Instagram.
"I'll move away from them when they no longer fit my vision."
American Samantha Wong is a prop stylist he uses interiors, fashion and food to collate creative Instagram pictures - with social interaction and the lives of people as the core purpose.
"My job is to tell stories of people through objects. Food is very much a platform for social engagement and interaction," Wong - now based in Hong Kong - says on Instagram.
"My photos capture that community as much as they tell about the 'deliciousness' of the food itself."
Wong recruits friends, who all dress in interesting fabrics, prints and textures - to make the images (while eating) all the more interesting and inspiring.
Scotland's Emily Hogarth is a illustrator and paper cutter who spends anywhere from one day to a whole completing just one papercut.
"I design it as I go along, which I find often makes the design more organic," Hogarth says on Instagram.
Each work is cut by hand, designed to capture the magic of everyday life. And she works on the opposite side.
"Writing backwards has become normal for me these days but it did take a bit of practice," says Hogawarth. "My work is often inspired by my surroundings, flowers and foliage on my dog walk or the pattern on an old vase."
Brazilian Vinicius Eneas is a 25-year-old advertising copywriter who captures the "surrealism of everyday life" in his photographs: documenting the unusual aspects of everyday life that are often overlooked.
"These details catch my attention, whether they are beautiful, sad or eccentric," Vinicius says on Instagram.
Vinícius uses the city of Natal for his muse, ignoring the typical beaches and blue skies, to undercover the heart and people of the city and their crafts.
"Most people see Natal as paradise, and for a tourist, it definitely is. But living here is different, so it's good to be able to show other perspectives, which are just as real, perhaps even more so."
The technique of surrealism is an interesting way to approach graphic prints and texture with fabric.